Taste Cumbria. It was another exciting day in Cockermouth, not just because of the estimated 40 thousand expected visitors, and not because of the predicted £3million benefit to the town, but because it gave me chance to really take time to shop around the town.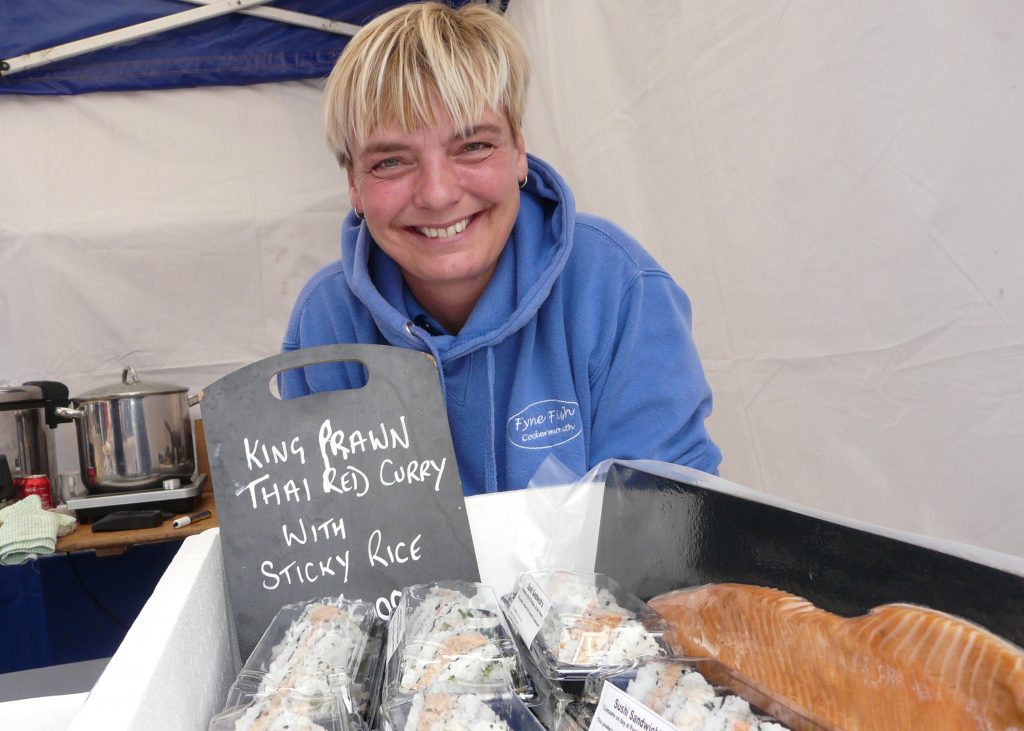 A sprinkling of Taste Cumbria and a proper look at the town. Fyne Fish first stop, then along to Jacy's (a girl always needs nice underwear) before collecting a treat from Indigo Lounge. It's a lovely clothes shop but would do better if they propped the door open to make it more welcoming. There are vintage furniture shops, artisan bakeries, lovely galleries (Percy House is a must), and of course, chance to peruse down the parade of blue and white carnival tents under which producers sheltered from the wind.
It's always nice to catch up with local producers who are also members of our Rural Women in Business Network (Deer n Dexter and Beck Trout Fishery). Their meat and fish are always on my list at the local farmers markets – and long may that continue.
Great to find something new too – Fyne Fish had a stand on the corner – and Sharon was serving King Prawn Thai Curry with sticky rice – cut up to look like a sandwich, great idea for lunch bites.
Cereal thrillers on the loose

Then we discovered Lakeland Mues, the boys have been at Gifted Eden market in in Penrith and were always very enthusiastic. They've taken the plunge to quit their jobs and go full time – hand shake indeed, #entrepreneurs.
Breakfasts will never be the same again. You certainly feel great and righteous after having a bowl of deliciousness for breakfast. It won't make me swing from a tree and jump in a plunge pool, but it does get the system going and should give consistent release of energy.
What goes well with breakfast – a cup of tea. I seem to be hit on the head with new tea at the moment – Carvetti have launched a tea range and it's very good – I had the Earl Grey with Cornflower at Lingholm Estate yesterday and today tried The Tea Company – bought a tea mug to brew my new breakfast blend – can't wait to try after my bowl of museday muesli.